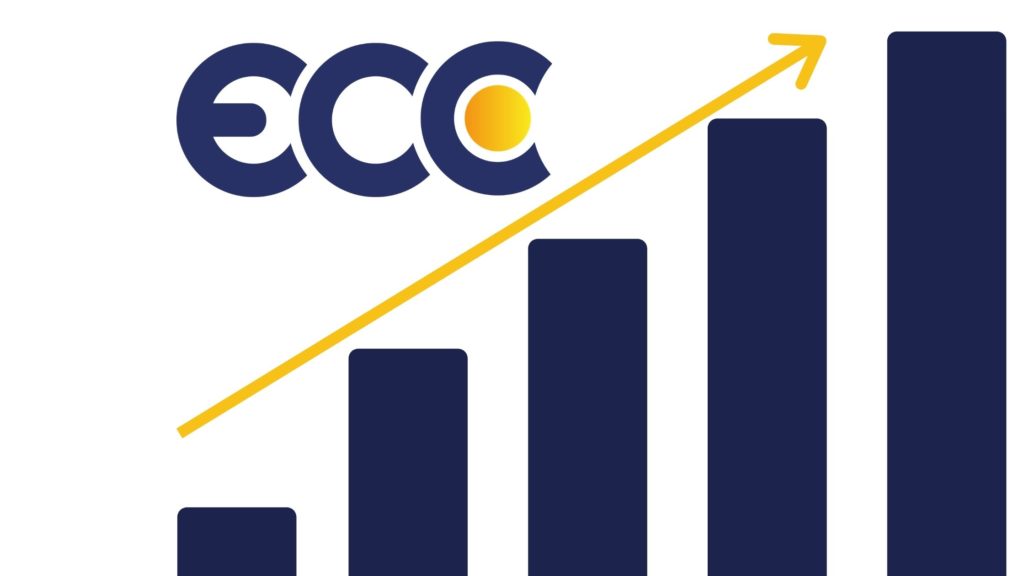 The climate of the working world is not in its finest state at present as we all continue to battle through the effects of the coronavirus pandemic. With that being said, European Consumer Claims continues to service the thousands of timeshare owners who have trusted us to assist them through the relinquishment and claims process. Furthermore, we have seen an increased number of new enquiries from timeshare owners disillusioned and upset with the way they have been treated throughout the past year with timeshare resorts offer little or no form of financial compensation for the holidays these owners have lost this year. As a result, here at ECC we have expanded our team of timeshare experts to assist and provide essential advice for owners in relation to regarding their timeshare related issues.
Over the year the team at European Consumer Claims Limited have aided thousands of European timeshare owners to break free from their onerous contracts and ever-rising maintenance fees. In recent years, ECC have also been providing advice and relinquishment services to more and more timeshare owners in other parts of the world such as the USA, another popular destination for UK timeshare owners.
A huge part of our work at ECC, and perhaps even the most rewarding, is helping timeshare owners get back the money they have lost to their resorts over the years. More often than not, we find that timeshare owners have been mis-sold their timeshare, being led to believe the purchase will be an investment for the future. Other owners are stuck, locked into a complex binding contractual agreement that exceeds the legal time limit for European timeshare contracts, meaning the contract is "in perpetuity".
How many timeshare Owners have We Helped?
European Consumer Claims have obtained successful judgements in over 292 cases with £6.6 million pounds in successful court compensation awards to date. In addition to this, ECC have a further 981 cases in the courts with a claim value of over £21 million pounds, with hundreds more cases in process. European Consumer Claims are the timeshare claims specialists you know you can trust.
pie chart images go here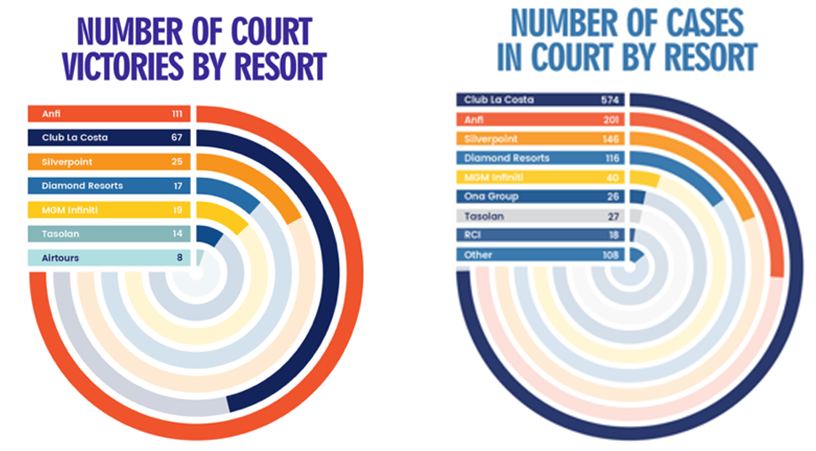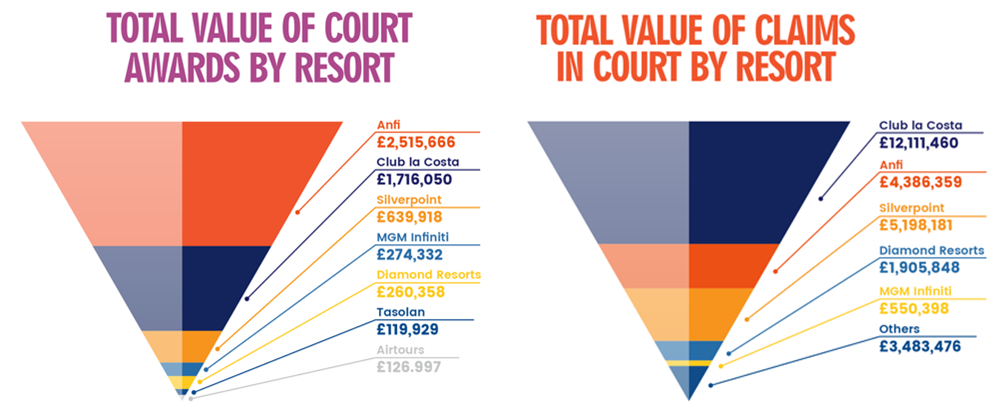 European Consumer Claims – Top Stories from 2020
This year has been challenging with the disruptions and difficulties following the ongoing pandemic. So how about some good news from European Consumer Claims?
Club La Costa World Pay UK Couple €16,000 after Losing Case to M1 Legal and European Consumer Claims
Before Christmas 2019, we gave one of our clients the greatest gift of all – a win. But the win also came with a huge payout of €16,000.
The UK couple, in their 70s, told us that a "big weight has been lifted" after we worked on their behalf to help them cut ties from their Club la Costa timeshare trap. Their contract was in fact found not to be legally compliant, just as many others also are.
The Bradshaw's became fractional owners of an apartment in Sierra Marina Resort owned by Club La Costa World in 2012. The couple paid more than £8,000 for their fractional ownership. They had also previously paid £19,000 for other Club La Costa World related schemes. As if this wasn´t enough, the couple were also forced to pay more than £5,000 in annual maintenance fees. It is likely that the situation the Bradshaw's found themselves in sounds very familiar to the one you or someone you know may be locked into.
"We saw it as an investment, to enjoy quality holidays – and we were advised that we would have the option to sell our fractional ownership back to Club La Costa World after 19 years but this was not the case," Mr. Bradshaw informed us.
"When we found out what they had told us was not true, we felt trapped having discovered the fractional ownership was unsalable there being no resale market," added Mrs. Bradshaw.
In August 2016, the couple decided that it was the right time to take action.
Content with the results they were seeing from European Consumer Claims the couple stated they urged others in their same predicament to give serious consideration to taking their same course of action. "Go ahead," said Mr. Bradshaw, "but be patient and don't be put off by the bad press you see online. Often enough the bad press is published by the very people who support the timeshare industry."
The legal team carefully analysed the contract that was given to the Bradshaw's. It was discovered that the contract Club La Costa had provided to the Bradshaw's did not comply with Spanish law. The contract failed to specify an end date and lacked the land registry information that is legally required.
In December 2019 they received their payout of €16,076. "We received €16,076 just in time for Christmas," said the Bradshaw's. "This was like a big cloud over us and now that it has been lifted we don't need to worry about family being lumbered with unwanted timeshare bills. We sincerely thank ECC and M1 Legal teams for their efforts."
It always puts a smile on the ECC team's faces to know that we have helped another innocent consumer who deserved so much better. We are extremely pleased that the couple are so delighted with the outcome of their case.
Andrew Cooper, the CEO of European Consumer Claims said "I am pleased that we were able to produce this outcome for the Bradshaw's. We look forward to doing the same for many other clients in the future."
You can read their full story, published by Yahoo! Finance, below;
https://finance.yahoo.com/news/club-la-costa-world-pays-171200238.html?guccounter=1&guce_referrer=aHR0cHM6Ly90aW1lc2hhcmVjb25zdW1lcmFzc29jaWF0aW9uLm9yZy51ay8yMDIwLzAxLzI3L2NsdWItbGEtY29zdGEtd29ybGQtcGF5LXVrLWNvdXBsZS1lMTYwMDAtYWZ0ZXItbG9zaW5nLWNhc2UtdG8tbTEtbGVnYWwtYW5kLWV1cm9wZWFuLWNvbnN1bWVyLWNsYWltcy8&guce_referrer_sig=AQAAADrrslqZvCKAnYEcJil4OquF7rfF9zeLknhirfSTo2EeE9IlrBIQ6E0N939xHbYOx_03qqykIyiPkeTpC3JgwF8XDPayExEzz5XXkehgtelv_nNF5OCMkn6n_4k8kQldDHhDNJLgQNnNiZvpplucgV_qz4IMeekwiWLHc8sARhzo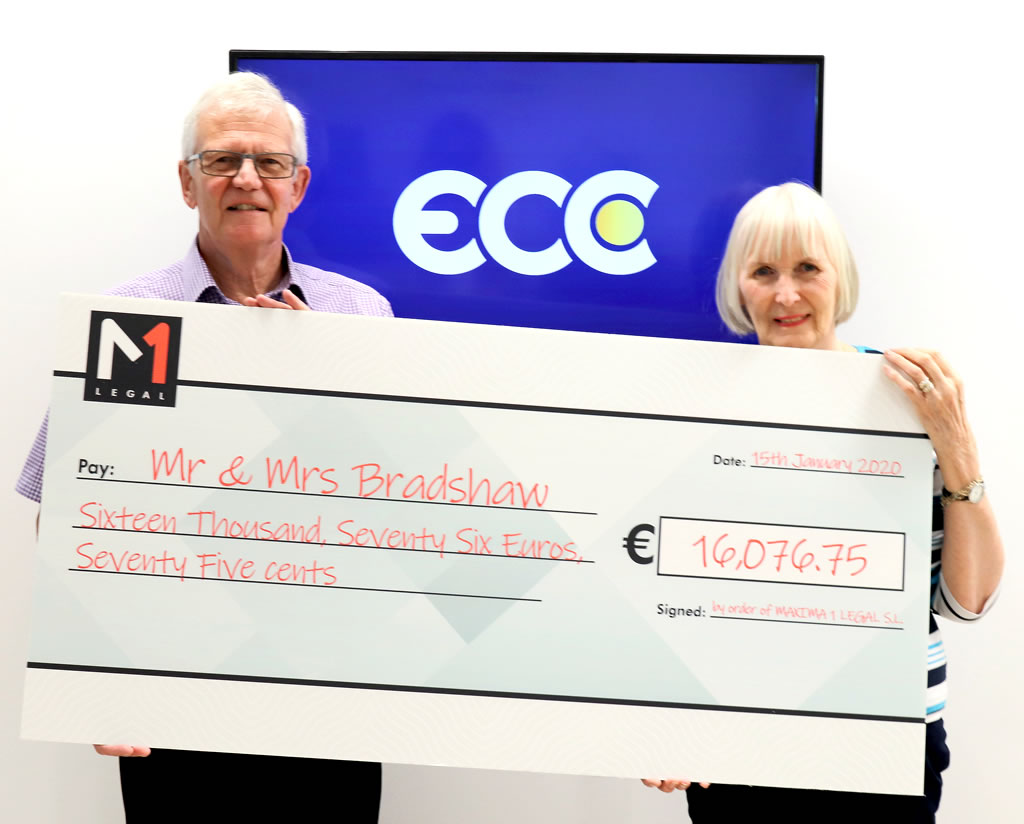 Another client of ECC European Consumer Claims and M1 Legal has successful end to Timeshare Claim with over €20,000 Payout
In January this year, we had a visit from Mr Townsend to celebrate his victory. The Bradshaw's had also come to visit our Mijas Costa office in Spain after their win.
Back in 2000, Mr Townsend purchased a one-bedroom apartment for week 38 on a fixed week timeshare basis at Airtours Beach Club, who he was assured to trust as they were a British company. In 2016 he stopped using the timeshare.
The original purchase of the timeshare cost Mr. Townsend £8,211 but over the next 15 years it also managed to relieve him of more than £20,000. This was due to maintenance fees for the timeshare that had increased by over 110%. "I saw it as a holiday the family could enjoy after I was gone – they could benefit from quality 5 star accommodation with facilities such as a spa and a private beach," commented Mr. Townsend.
He was fed untrue information by the salesperson; "But that was not the case, I later found out I had been misinformed and felt trapped with no option to sell. I was also becoming increasingly worried about my family being held liable for the annual maintenance bills."
Upon analysing the contract it became clear that it contained illegalities. First of all, the contract exceeded the legal time period of 50 years with the lease being 96 years long. Under Spanish law a contract over 50 years in length is considered to be in perpetuity. Secondly, the contract lacked detailed information on when the apartment could be used and the accommodation didn't have a land registry number either.
Towards the end of 2019 Mr. Townsend was free from his timeshare trap and got to see the real life results of his claim. "In early December 2019, M1 Legal informed me that the Judge had passed final judgement, and shortly before Christmas, I received the sum of €20,202."
"If anyone has a similar situation, my advice would be to go along to a meeting and see if you have a claim, and if you do, then you can take comfort in knowing that this company does pursue claims unlike others out there."
You can read his full story below;
We hope that soon enough, once travelling is a safe luxury again that we will be able to celebrate with more of our clients. Invite them to our offices and introduce them to the people who set them free from their timeshare burdens and helped to get their money back.

Timeshare Company Exploits Elderly Owners Trapped at UK Resort During Covid-19 Lockdown
A more distressing story from this year was at the peak of the coronavirus panic. On the 2nd April 2020, a couple named Mr Barry and Mrs Deborah Payne emailed the Timeshare Consumers Association (TCA) with a desperate plea for help because their timeshare resort was demanding they pay a weekly rental fee of £675 or face eviction during the COVID-19 lockdown, even though they were instructed to self-isolate and NOT to return home.
Having heard about the story, European Consumer Claims kindly sent a bank transfer payment of £675 to Mrs Payne in an effort to help ease her worry and fears.
ECC spokesperson Sharon Johnson said: "we understand that the current times are difficult but this vulnerable couple just wanted to be safe and what has unfolded is a 1000-acre estate owner not having their timeshare owners best interests in mind".
To find the full story of what happened to this couple, see the link below.
https://timeshareconsumerassociation.org.uk/2020/04/24/timeshare-company-exploits-elderly-owners-trapped-at-uk-resort-during-covid19-lockdown/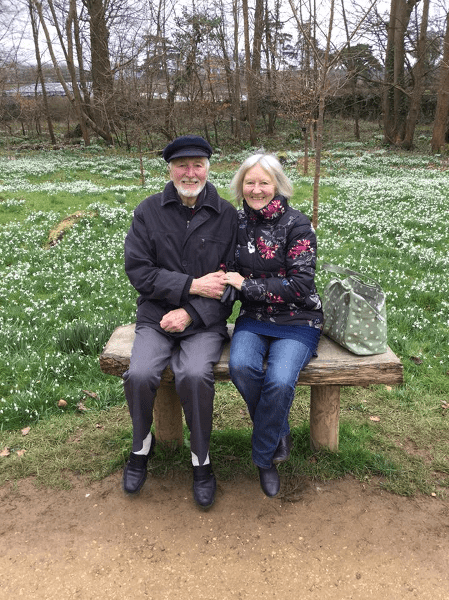 WHAT is believed to be the biggest award in European timeshare history regarding a dispute over a Tenerife timeshare is now one step away from getting the results for British couple Mr & Mrs Sewell-Rutter from Southampton.
In September 2018, our retained lawyers at M1 legal received confirmation of an award at the first court of instance totaling €365,000 Euros against La Pinta beach Club in Tenerife.
The couple had several contracts purchased over the years and the evidence revealed that they were all connected with the same company. The contracts were also in perpetuity i.e. over 50 years.
In our initial interview with the couple, Mr & Mrs Sewell-Rutter commented "We have had timeshare weeks with La Pinta Beach Club for over 10 years and every year we went there, we were approached by the re-sales department, pressuring us to buy additional timeshares which they promised to sell at a profit. They put so much pressure on us each time to make us part with our money, that we felt quite exhausted and gave in. As a result we lost most of our savings, having to remortgage our house and take out a bank loan. In the end we had lost a considerable amount of money, we didn't know where to turn until we found M1legal".
Since then, La Pinta appealed against the judgement and in July of this year, a Spanish High Court considered the appeal and issued a final judgement awarding the Sewell-Rutters the sum of €312,000 Euros. There is no further right to appeal and M1 Legal are now applying to the court for funds to be released.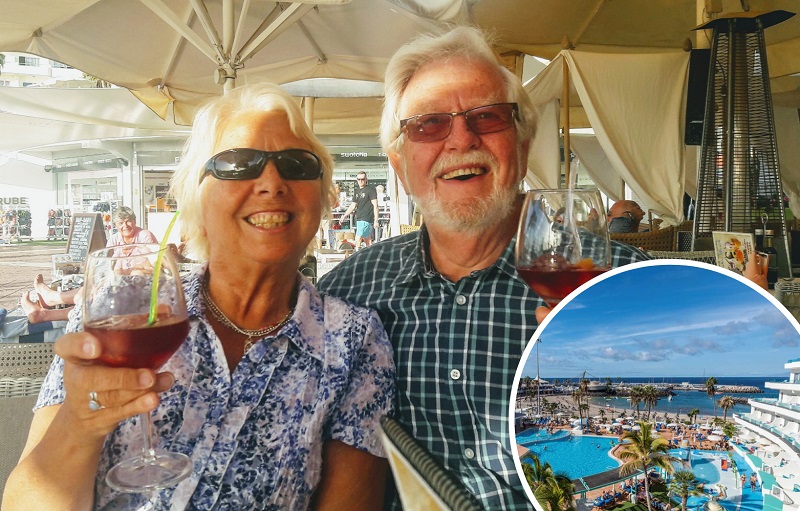 Timeshare in 2020
This year the majority of timeshare owners lost the opportunity to take their annual timeshare holiday. Nearly all timeshare resorts have closed for some duration of time through the pandemic. Airlines have gone bust and countless businesses have closed their doors for good. Through this difficult time, even when countries began to open their borders again people were still advised not to travel unless necessary, leaving people too scared to travel, understandably not wanting to put their health at risk.
Most companies operating in the hospitality industry such as hotels and airlines, have done the right thing and refunded their clients who were unable to travel during the pandemic. However here at European Consumer Claims we have been appalled at the lack of empathy from the timeshare industry as a whole with very few resorts offering any form of financial compensation for the maintenance fees paid for these lost holidays. Loyal owners of 15 plus years have paid their maintenance fees this year and in most cases all owners have been offered is a transfer of their holiday to the next year. When in reality who can guarantee that it will be safe to travel next year and who can guarantee that there will be space for twice the amount of bookings when the resorts struggle at their usual capacity?
The Timeshare Consumer Association have been assisting timeshare owners since 1997. They provide insight into timeshare resorts, related companies and general questions that are frequently asked about regarding timeshare. Their webpage is especially handy with advice for European consumers. This association launched an ongoing campaign to gather vital information from timeshare owners in order to better understand the situation faced in relation to their maintenance fees with the objective to seek maintenance fee refunds for those affected. ECC are supporting the work they are doing in regard to this survey, if you would like to have your say, you can complete the survey by clicking the link below.
https://timeshareconsumerassociation.org.uk/maintenance-fees-survey-2020/
European Consumer Claims Reviews
At ECC, our team put a lot of hard work in to get the best results for our clients. It is always a delight to receive feedback from the people we help. Here are just a few of the messages of thanks we have received…
"We can't thank you enough for release of this nightmare of many years and frustration, time, costs, scams, etc. You were so helpful in all areas from start to finish. Well done."
Mr & Mrs C
"Since I was widowed It has been an uphill struggle to reach this point but I would like to thank you for all your assistance in helping me finally relinquish my timeshare. If I should meet anyone else in the same situation, I will certainly recommend you and your company, as it has taken far less time than I had envisaged and a great weight has been lifted off my shoulders. I do hope you are able to continue to assist people who have found themselves in this difficult situation and I wish you all the best in the future."
Mrs O – Vacation Village at Parkway
"I would like to express my gratitude and appreciation for all the work and advice you have provided with Westgate and the timeshare. Thank you very much for your professionalism during this time."
Mrs R – Westgate
"Thank you so much for your efficient, speedy way of enabling me to relinquish my DiamondResorts Membership. I have been trying to do this for many years without any success, so a huge personal THANK YOU from me."
Mrs C – Diamond Resorts
"After years of ever increasing maintenance fees & deterioration of the resort, we decided to look at options of getting out of our Airtours timeshare. Although sceptical, we made the decision to visit ECC in Sterling. The consultation was very informative and was advised the whole process could take a minimum of a year to 18 months and our case took just under 18 months.
After paying an up-front fee we were still very sceptical to be honest so on several occasions requested an update to make sure things were moving along which they did provide. What gave us more peace of mind that we did the right thing was when we had to visit a local solicitor to have official documents drafted up. Shortly after that our case had been passed to M1 legal Lawyers in Spain and they won our case.
On a whole I cannot fault ECC with our personal experience."
Mr & Mrs S – Airtours Beach Club
If you are looking to exit from your timeshare, claim money back or simply searching for advice we are available Monday to Friday from 9am till 8pm. Call us on 0800 6101 512 | 0203 6704 616 or email us at info@ecc-eu.com.