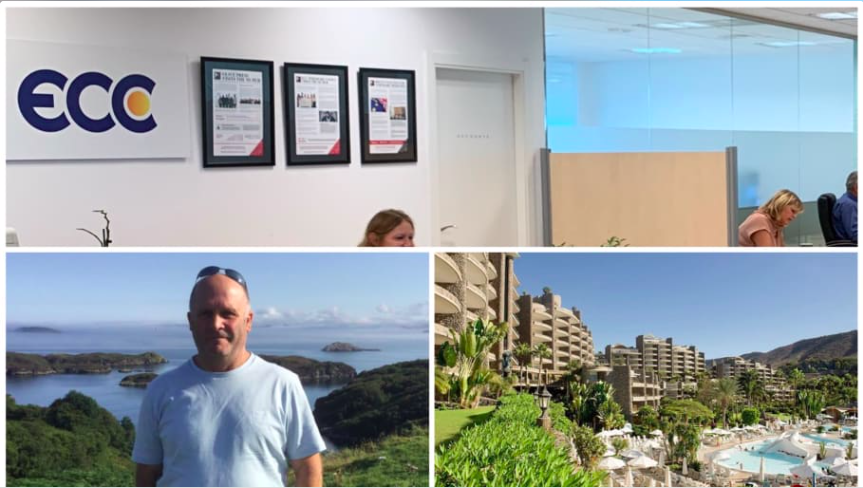 One man's timeshare claim journey. – To many timeshare owners the idea of making a compensation claim can be fraught with questions:
Do I qualify? Was I really mis-sold, or am I being greedy to seek compensation? Am I making a fuss over nothing? Sure, the timeshare companies ignored some rules, but was it that big a deal? Is it complicated? How long will it all take? How much does it cost? How do I avoid scams? Which firms are most experienced?
Because many timeshare owners share the same concerns and reservations about whether they should make a compensation claim, we decided it would be useful to speak with a recent European Consumer Claims (ECC) client.
Andrew Rees has kindly agreed to share his experience with our readers in the form of an interview.
Hi Andrew welcome and thanks for agreeing to be interviewed. Do you mind telling our readers a little bit about yourself? Hello. It's a pleasure to be here. My name is Andrew Rees, I'm 57 years old and I'm from Swinton, Manchester. I'm a construction project manager, happily married for twenty years. I have three kids and two grandchildren. Proud Man United fan
So you bought a membership of ANFI about 10 years ago. What made you decide to go and take a timeshare sales tour? The only reason we went for the sales tour is because we were recommended by the Thomas Cook rep at our hotel on the first day of our holidays. We'd never have listened to a street tout – we always walk straight past them, but the rep in our hotel recommended it to us as a nice day out. We trusted her. You do, don't you? They are your contact for anything important while you are on holiday
Now that you know ANFI had a financial relationship with Thomas Cook, and they got paid for persuading their guests to visit ANFI, how does that make you feel about they way in which you were invited? I was disappointed to find that out. I feel that our trust was manipulated and they misled us. We wouldn't have gone if we knew Thomas Cook was being paid to send us there
Do you remember how long the sales presentation took? Yes, we were there all day from early morning to late afternoon. By the end we were completely exhausted. We weren't left alone for a second. They didn't want us discussing anything on our own that's for sure
So after these several hours, you made the decision to spend around £27,000 to join the club, and handed over a deposit payment of around £3500. Would you normally make a decision of that magnitude without taking time to think about it? No we would never normally have done that, its something we normally would weigh up away from the environment. When we actually got home we found that our outgoings were more than we had calculated. We feel like we were rushed into a decision
Did it surprise you to find out that ANFI had broken the law by taking a deposit on the day? Yes and no. It did come as a surprise because they had made it seem like it was all perfectly normal. But I can see why they want you to make a decision while you are in a good mood, surrounded by luxury, beach and palm trees. You say yes more easily when you're in that kind of mood. Well obviously, or they wouldn't have needed to ignore the law. It's a huge decision. You need time to think about it, and ANFI didn't want us to have that time
But you had 14 days Cooling Off period to change your mind though? Well again, yes and no. They moved us into ANFI out of the apartment where we were staying that same day for the rest of our holiday, as a perk of joining. This was such an upgrade from where we were staying that we were overjoyed. But during the signing up process we were told that if we did cancel, we would be charged for that accommodation – £1400. By this time we were already looking forward to the upgrade, and also sure we would not cancel so we didn't object. But that £1400 penalty meant it was more difficult to change our mind. Also, the salesman told us when we joined that ANFI would buy the timeshare back off us at any time for what we paid for it. We knew we'd lose a little bit in fees and charges, but basically that guarantee meant we felt safe to go ahead
At what point did you decide that you regretted committing to joining ANFI? The very first year we came back we realised we had committed to something that was too expensive. We asked about the "buy back" scheme and were told that the scheme had finished. We were shocked at that, as it was only one year later, but that didn't matter to ANFI. We were stuck with being members whether we liked it or not.
How did that make you feel? We were disappointed to say the least. We felt like we had been cheated and manoeuvred into the decision via less than honest means. ANFI had our money now and we were stuck with paying the expensive maintenance fees every year. It was a nightmare. We felt trapped and that we had lost a lot of money
How did you feel when ECC told you that they could get you compensation from ANFI because of their disregard for the law? Well I was surprised and happy. I feel like we were manipulated into the decision to join ANFI against our best interests. Its a huge relief not only to be free of the commitment to the £1300 a year maintenance fee, but also to get our money back
Were you sceptical of ECC at all? Yes we were sceptical. We wondered if it was too good to be true. Well you have to be careful, but we researched and it was clear that ECC are the most successful of these claims firms. And we made the right choice. We just received over £21,000 last week and there is another large payment coming soon too. It's been a long road, but ECC did what they said they were going to do
What is your advice to other people who may be considering claiming compensation claims? Some people may have made the right decision to join ANFI. But there will be a lot of people who were illegally manipulated to join on the day like we were. This amount of money can be life changing to some people, especially if they are elderly or not well off. ANFI have deliberately ignored the law to make money at the expense of ordinary people. They should be made to pay for this behaviour. Anyone who feels like they were rushed into a big decision like we were, contact ECC. They'll let you know if you can claim any money back. I know there are a lot of fraudulent claims firms out there, it took a year or so but ECC did exactly what they said. They got us a big compensation payment and we are really happy we contacted them
Thank you for sharing your story Andrew. Enjoy the money!
Andrew Cooper, the CEO of ECC adds: "Mr Rees's story is typical and many owners don't realise how subtly ANFI and other Spanish timeshare companies steered them into spending large sums of money. It is predatory, manipulative behaviour to profit at the expense of everyday, working men and women.
"Seeking the compensation you are entitled to is not just your right, it is the only way to make those companies pay for their actions.
"Generally speaking, if you bought in Spain during or after 1999, and any of the following criteria apply, then you could be eligible for compensation. If you paid a deposit on the day (within the first 14 days actually), or your ownership is Points or Floating Weeks, or if the contract was for over 50 years.
"There are other situations where a claim may be possible, so don't hesitate to ask if you feel there might have been anything unfair about the way you were sold. You can either contact a reputable claims firm like ourselves, or one of the independent timeshare consumer associations for more info."